 How to Bet on the Kentucky Derby How to Bet on the Kentucky Derby
Every year, the first Saturday in May marks one of the most anticipated sporting events in America: the Kentucky Derby. Up to 20 horses compete at the historic Churchill Downs in Louisville, Kentucky for a chance to win an enormous purse and take their place in history. Even if you've never followed horse racing before, chances are high that you're familiar with this prestigious event.
As one of the biggest betting events of the year, horse racing aficionados, newbies, and everyone in between studies the horses, trainers, jockeys, and, most of all, the Kentucky Derby odds—eager to be a part of the excitement and tradition of this classic race. Read on for an overview of this beloved racing event and its history, its legends, and tips on reading betting odds for the Kentucky Derby.
Betting on the 2023 Kentucky Derby
As horses on The Derby Trail qualify and are scratched throughout prep races, Kentucky Derby horses and their odds fluctuate fairly frequently. For example, in 2022 the horse Rich Strike replaced Ethereal Road on the contenders list, after Ethereal Road was scratched from the running. As an 80-1 longshot, Rich Strike then went on to win the Derby.
Each year, about 500 horses are in contention for race day. Anything can happen in the time leading up to the Kentucky Derby. Live odds will shift a countless number of times, and horses will move up and down the list—even up until betting closes on Derby day.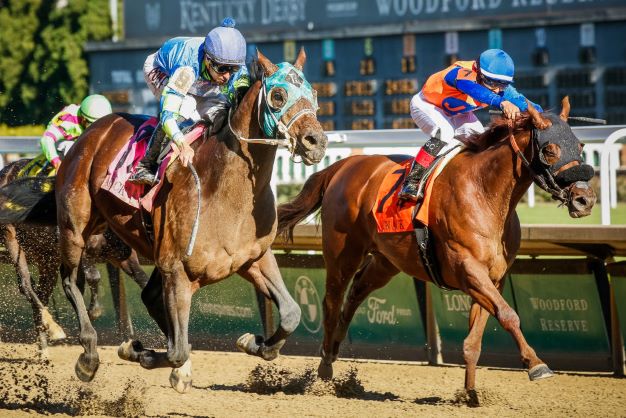 How Do You Bet on the Derby?
Kentucky derby horses and their odds are usually presented in an x-y format. For example, 3-2 odds means a $2 wager pays $3. On all bets, you win the payout amount, and your initial stake is also returned to you. On this 3-2 bet, you receive back your $2 bet and the $3 winnings, walking away with $5.
Bet Types
The Kentucky Derby offers two main styles of betting: straight wagers and exotic wagers, each with its own subset of bet types.
Kentucky Derby straight betting types
Straight wagers are bets on a single horse to finish first, within the first two places, or within the first three places—referred to as win, place, and show, respectively.
Win
A win bet wagers on a horse to finish first. This type of bet tends to have the longest odds out of the straight wagers.
Place
A place bet pays out if your horse finishes first or second place.

Show
A show bet pays if your horse finishes in first, second, or third place.

Across the board
An across-the-board wager places stakes on a horse to win, place, or show.
Win/place, place/show
Straight betting also allows for win/place and place/show bets.

Exotic wagers
Exotic wagers are bets that two or more horses will finish in a sequence that you predict. This style of betting usually offers much larger payouts than straight bets, but the odds of winning are much harder to beat. For more info on different types of wagers, check out our guide to betting on horse racing.

The odds to win greatly impact the odds to win an exotic wager. For example, in 2001—the winner Medina Spirit, with 125-1 odds to win—a $2 exacta paid $503.60, a $1 trifecta paid $1,696.90, and a $1 superfecta paid $9,456. Conversely, Nyquist, the winner in 2016— with 5-2 odds to win—paid $30.80 on a $2 exacta, $173 on a $1 trifecta, and $542 on a $1 superfecta.

Exacta
An exacta wager is a bet on two horses to finish first and second place in exact order.

Trifecta
This wager selects three horses to come in first, second, and third place, in precise order.
Superfecta
This type of bet wagers on the first four horses to cross the finish line in the sequence you select, much the way the exacta selects two horses and the trifecta, three.

Boxing exotic bets
Some exotic wagers often enable you to "box" your bet. A boxed wager pays out regardless of what order your horses finish in. A box bet costs more than a straightforward exotic wager, but improves your chances of a payout.
Early betting
If you're looking to get in on the action as soon as possible, futures betting traditionally opens for a short time in November, February, March, and April, while prep races for the Kentucky Derby take place.
Horses have the longest odds to actually win the Kentucky Derby during prep season. Thousands of contenders compete just for the chance to become eligible, so every one of them has a big hill to climb just to qualify—but if your horse makes it to the Derby and wins, the payout will be quite substantial.
Derby week options
The week leading up to the Kentucky Derby consists of narrowing down the final entries, which are usually determined the Monday or Tuesday of that week at the Kentucky Oaks race at Churchill Downs. Advance betting on the Derby typically becomes available the morning before the main event.
Kentucky Derby Prep Races
Horses qualify for the Kentucky Derby through a series of preliminary races held throughout the year in four groupings called "The Road to the Kentucky Derby", or sometimes referred to as "The Derby Trail". Churchill Downs awards points to the top five finishers of selected races throughout the series.
The Road to the Kentucky Derby spans numerous races between September and May, on race tracks around the world. The Kentucky Oaks race precedes the Derby, usually occurring the Monday or Tuesday right before Kentucky Derby Saturday at Churchill Downs.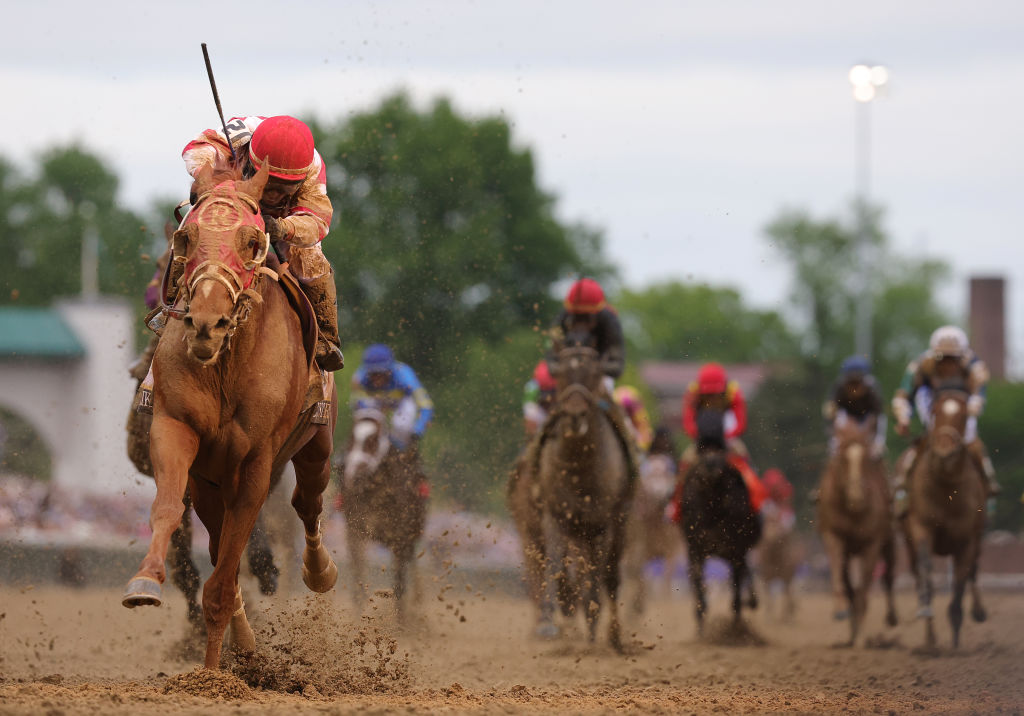 History of the Derby
Since then, not a year has gone by in which the first Saturday in May didn't greet the famed and beloved Kentucky Derby.
Past Kentucky Derby winners
Even during the Great Depression, when many other tracks halted their yearly main events, Churchill Downs didn't shut down this much anticipated occasion. Since 1875, Churchill Downs has seen 148 Kentucky Derby winners. Here's a look at the five most recent Derby champions.
| | |
| --- | --- |
| Year | Winner |
| 2017 | Always Dreaming |
| 2018 | Justify |
| 2019 | Country Horse |
| 2020 | Authentic |
| 2021 | Mandaloun |
| 2022 | Rich Strike |
Historic Kentucky Derby races
With so many races run over the past century-and-a-half, some races and winners stand out among the rest, through victories and unforgettable moments that cemented their place in horse racing history.
Brokers Tip
1933 – This race was momentous, not so much for the winner, but for a melee that ensued between jockeys Don Mead, atop Brokers Tip and Herb Fisher, riding Head Play. As the horses raced side by side, the two men were seen grabbing hold of each other as they crossed the line, in what became known as the "fighting finish". Brokers Tip emerged victorious, but as a result of the tussle, both jockeys received a suspension from racing immediately following the Derby.
Forward Pass
1968 – Finishing a physical second place to Dancer's Image, Forward Pass won by default when testing found traces of phenylbutazone in the winning horse's system. The substance was banned in horse racing at the time, and Dancer's Image was disqualified. This was the only instance of a winner disqualification for a banned substance in the history of the Kentucky Derby.
Secretariat
1973 – Many consider Secretariat to be the greatest Kentucky Derby racer of all time. Beating the speed record in each of the Triple Crown races, Secretariat was the first horse to finish in under two minutes, at 1:59:40. The second horse ever to do so was Sham—the horse that came in right behind Secretariat in that same race.
Big Brown
2008 – Big Brown began from the 20th position (the most difficult starting place to gain ground); though it's rare for a horse to win from position 20, it has been done before. What makes Big Brown's win so special is that he finished first at almost five lengths ahead of Eight Belles, the second-place finisher.